CD 31 or cluster of differentiation 31, is a blood and intracellularly produced coagulation factor. This is also know as Platelet endothelial cell adhesion molecule or (PECAM-1). CD31 is normally found on endothelial cells, platelets, macrophages and Kupffer cells, granulocytes, T / NK cells, lymphocytes, megakaryocytes, osteoclasts, neutrophils. Because it found on endothelial cells, this makes this a useful tool to identify if a tumour is of vascular origin. This shows a cytoplasmic and membraneous staining pattern as shown below.
Picture 1 – CD 31 positivity in tonsil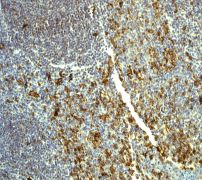 CD 31 has several different applications. Below are a few examples.
| | |
| --- | --- |
| Tumour | CD 31 + or - |
| Angiosarcoma | Positive |
| Hemangioblastoma | Positive in 90% of cases |
| Karposi Sarcoma | Variable positive in about 45% of cases |