In the reaction shown below, the staining takes advantage of the ability of CK5/6 and TTF1 to stain up different cell populations. Using different processes of DAB staining for the TTF1 which is applied first producing the nuclear staining, while the use of alkaline phosphatase produces the red stain for CK5/6 positive areas. This as shown below allows a direct comparison between the two in the same tissue.
Picture 1 – Dual staining use in Lung TTF1/CK5/6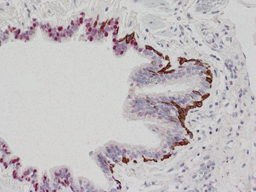 This is one of the most useful Dual staining techniques in ICC as it can be used to distinguish between adenocarcinoma and squamous cell carcinoma. However there are many, many applications for this porcess in immunocytochemistry and this is a area that is growing in importance.
Tumour or cell type

CK 5/6 or TTF1 + or -

Adenocarcinoma

TTF1 + CK 5/6 -

Squamous Cell Carcinoma

TTF1 - Ck5/6 +