HMB45 or human melanoma black 45 is an antibody marker that reacts with antigens present in conditions like melanoma. This meas it can be useful in differentiating melanomas from carcinomas.
The staining pattern of HMB45 is Cytoplasmic as shown below.
Picture 1 – HMB45 positivity in skin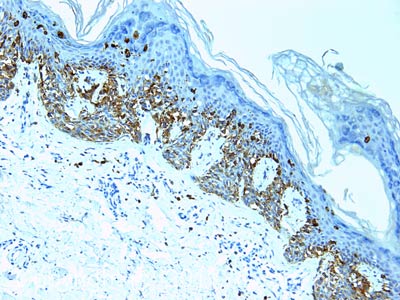 HMB45 has several different applications. Below are a few examples.
| | |
| --- | --- |
| Tumour or cell type | HMB45 + or - |
| Angiomyolipoma | Positive |
| Primary clear cell sugar tumour | Positive |
| Malignant melanoma | Positive |
| Interdermal naevus | Negative |